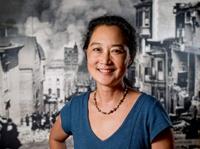 Grace Kang, SE, Director of Communications at PEER, was honored at an induction ceremony for the Structural Engineers Association of California (SEAOC) College of Fellows on September 10 at the SEAOC Convention in Bellevue, Washington.
Grace is an accomplished designer of wood frame and reinforced concrete residential facilities and the engineer behind the seismic retrofit of a variety of important cultural and academic buildings in the Bay Area. She has also provided significant energy and time serving Structural Engineers Association of Northern California (SEAONC), SEAOC, and other organizations, including serving as SEAONC President, SEAOC Director, and as a member and past-chair of Cal Poly San Luis Obispo's Architectural Engineering Advisory Board. As PEER's Director of Communications, she uses her background as a practicing engineer to translate research findings at PEER into language the profession can appreciate, helping to build understanding through education.
The SEAOC Board of Directors established the College of Fellows to honor esteemed members who have provided distinguish service to the association and made outstanding contributions in the field of structural engineering. Each SEAOC member organization nominates prospective fellows based on a set of criteria that includes demonstrated skill and achievement in structural engineering, contributions to the profession through publication or presentations, service to their Member Organization or SEAOC, and service to the public through participation on boards and bodies relevant to structural engineering.