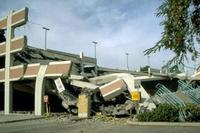 On October 9, 2015, after receiving unanimous support by the Los Angeles City Council, Los Angeles Mayor Eric Garcetti signed a law mandating seismic retrofits of vulnerable buildings. The mandatory retrofit law would affect up to 13,500 soft-story wood-frame structures as well as 1,500 older concrete buildings.
Under the new ordinance, building owners will be required to accomplish the following seismic safety measures:
For soft-first story buildings built before 1980, under the new law, building owners will have one year to submit to the City documentation establishing that an acceptable retrofit has already been conducted or that a retrofit is required, and an additional year to acquire necessary permits. Property owners will have seven years total to retrofit their buildings upon receipt of notice. The seven years is inclusive of the two years granted to the property owner to conduct an assessment and obtain permits.
For non-ductile reinforced concrete, building owners will have three years to submit documentation to the City to begin the inspection process, and 10 years to establish whether an acceptable retrofit has already been conducted or that a retrofit is required. Property owners would have 25 years total to complete the retrofit work, inclusive of the first 13.
PEER research about the performance of older concrete buildings, started in the late 1990s, and funded by Network for Earthquake Engineering Simulation – National Science Foundation (NEES-NSF) from 2007-2012 provided the basis of information about the seismic performance of these older concrete buildings, which can be severely damaged or collapse due to insufficient design consideration of earthquake effects.  This project identified how widespread the collapse hazard is in the existing building stock, and it developed engineering and policy tools to identify and reduce the risk of hazardous buildings.
Additionally, PEER was an active organizer and participant in the Northridge 20 Symposium, held in January 2014 in Los Angeles.  The two-day meeting provided a forum where over 600 scientists, researchers, engineers, and public policy makers from Los Angeles and the state of California participated in sessions that provided recommendations on next steps needed to ensure resilience to future earthquakes.