The PEER Student Committee is pleased to present our next spotlighted researcher in the "Meet the PEER Students'' Series. The series features students and postdoctoral researchers who conduct exciting research projects, engage in leadership activities, and perform exceptional work. This month, we met Francisco A. Galvis, a Ph.D. Student in the Department of Civil and Environmental Engineering at Stanford University.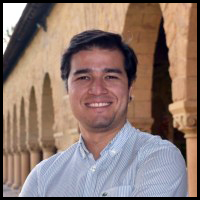 Francisco A. Galvis is a Coombian structural engineer currently pursuing a Ph.D. at Stanford University. His research aims to leverage high-fidelity structural modeling to inform policy decisions regarding disaster risk management, with a special focus on earthquake risk. Before starting his Ph.D. in 2017, Francisco served for two years as a full-time lecturer in the Department of Civil and Environmental Engineering at Universidad de los Andes, one of the top universities in Colombia. During that experience, he taught structural engineering to more than 200 students and participated in the complete redesign of two courses to a flipped classroom methodology. He also has 4 years of consulting experience in the structural design of large projects including a 400m long cable-stayed bridge, 3.0 miles of retaining walls for highway projects, and numerous bridges and buildings of different sizes and systems. Outside of work, Francisco enjoys spending time with his wife, playing soccer, and talking with people of different backgrounds.


What made you interested in earthquake engineering?
The first thing is that Colombia is a very earthquake-active country. We have at least two or three earthquakes every year that we actually feel. I grew up in a small city called Ibagué. When I was nine years old there was a huge earthquake that nearly destroyed a nearby town. We had to evacuate the house and run. It was pretty shocking. The second thing is that my dad is also a civil engineer building pavements and roads, and I often would shadow him on my summer vacations. That's how I got interested in civil engineering, not particularly structures and earthquakes, but then when I started school, the earthquakes continued to occur often while I studied them. I think that's the reason why I got interested in earthquake engineering.
What are your research goals?
Research is a chance to address different solutions without necessarily having a clear end result, while having the time to pursue a certain direction of ideas. That's why I am doing a Ph.D., so that I have the time to thoroughly think through problems and their solutions. Concretely, I hope my research can help make decisions. For example, building codes are a direct way for engineers to impact society. Also more generally, policy-making: there's a state-level bill going on now for earthquake recovery, and research can inform policy-makers to make those decisions. I try to do whatever research work I can to influence those decisions in the right direction. Going narrower to my particular research, I'm thinking on the effects of these old, vulnerable steel buildings that are widespread across the U.S., so-called "Pre-Northridge" frames. What's the risk that these buildings pose to society, especially in dense urban areas where you have many of these very tall buildings that can affect public safety, recovery, and economic activity.
Tell us about your journey as an international student.
After being here for nearly four years, I came to realize that there are many obstacles that I put on myself. I didn't dare to try to come to graduate school earlier; instead, I graduated, did a master's back home, worked for a few years, went to teach, and then finally I applied to come here. I thought in order to apply to universities, you needed to have a big portfolio. Now, I realize that it just takes hard work, and I think I should have applied earlier. When I finally applied, I was super fortunate to come to Stanford University, which has been so fun with such open and understanding people. There is so much diversity. I love it, and I learned a lot talking to people from so many different backgrounds that I wouldn't have otherwise met.
Tell us about your path in structural engineering.
I did my undergraduate in Colombia where I did my thesis measuring the vibrations of a bridge, and the company that designed that bridge offered me a job. I worked with them for almost 4 years and it was the perfect timing because Colombia was at the time starting to develop a bunch of highway projects. At the same time, I did my master's at the Universidad de Los Andes, and when I finished, there was a chance to become a full-time lecturer. My professors encouraged me to apply and then, they offered me the job. That's when I had to think about what to do because I was really happy at the company where I was designing bridges. I even got the chance to work on the design of a cable-stayed bridge, which is an amazing project for a 25-year-old person. But then, it was also the question of whether I really wanted to do a Ph.D. and go abroad. Finally, I decided to try the Ph.D. path. So, I quit my industry job, I went to work at the university and at the same time I started to prepare the paperwork for scholarships and applications. That's how I ended up here in 2017 to pursue the Ph.D.
What are your career goals?
I am working very hard to graduate next year. Down the line, I think I would like to go back to the industry. I had a lot of fun when I was in the industry back in Colombia and I would like to have a similar experience in the US now that I've learned about more problems that we can tackle with what we do. For example, the use of risk assessment as part of our profession. We can also tackle problems that go beyond the structural response, and we can start having conversations with city planners; maybe get involved with insurance companies that also manage risk and do rigorous analysis. I think that's where I'm heading but it's still very up in the air.
What achievements or projects are you especially proud of?
I am proud of the work I did on a cable-stayed bridge in Colombia. To give a little bit of context, the largest river in Colombia is called "Río Magdalena." Some bridges cross it but they are all too narrow. So, one of the big highway projects that started around eight years ago was to make a bigger highway that crossed through there. So, when I joined this company, they were already pushing this and evaluating different options until there was approval to design this cable-stayed bridge. The boss of the company and one of the partners in the company were leading the whole conceptual part of the project. There was another engineer with around 15 years of experience that was going to do the actual design and we had been working for two or three years. He was mentoring me and then he requested me for this job. I was very lucky. It was basically just three engineers and I was one of them; I was in charge of doing the bridge modeling and other cool parts.
Watch the August Spotlight video with Francisco A. Galvis. Do you know someone in the PEER institutions who is doing a great job? Nominate them to be part of this series.