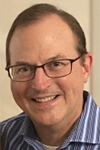 The American Society of Civil Engineers has awarded its 2022 H. Bolton Seed Medal to Jonathan D. Bray, Professor and Faculty Chair in Earthquake Engineering Excellence in the Department of Civil and Environmental Engineering at the College of Engineering at University of California, Berkeley. The H. Bolton Seed Medal recognizes outstanding contributions to teaching, research, and/or practice in geotechnical engineering. Professor Bray is a PEER-funded researcher and Principal Investigator of the CEC-funded project to develop a seismic risk assessment tool for natural gas storage and transmission systems.

Bray will be recognized at the 2022 Geo-Congress which will take place March 20-23, 2022, in Charlotte, North Carolina. Bray is recognized for advancements in geotechnical earthquake engineering, including liquefaction ground motions, seismic site response, seismic slope stability, soil-structure-interaction, and surface fault rupture. He is also recognized as a gifted teacher and mentor of undergraduate and graduate students at UC Berkeley and a gifted educator of professionals through numerous short courses. His many honors include the Ishihara Lecture from the ISSMGE, the Joyner Lecture from SSA and EERI, the Huber, Peck, and Terzaghi Awards from ASCE, and election to the National Academy of Engineering.

Read more from ASCE.