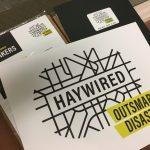 The HayWired earthquake scenario, led by the USGS, anticipates the impacts of a hypothetical M7 earthquake on the Hayward Fault, with epicenter in Oakland. The fault is considered the most active and dangerous in the US because it runs through a densely urbanized and interconnected region. The scenario methodology is very similar to PEER's performance-based framework: a hazard is postulated and defined, engineering is applied to determine consequences to buildings and lifeline networks, and social impacts are explored.
The USGS Fact Sheet can be found here: https://doi.org/10.3133/fs20183016
and the HayWired Earthquake Scenario reports published so far (Volume I: Earthquake Hazards and Volume II: Engineering Implications) can be found here: https://doi.org/10.3133/sir20175013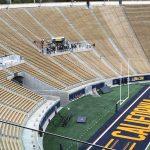 Partner organizations in the HayWired Coalition and HayWired Campaign are working to energize residents and businesses to engage in ongoing and new efforts to prepare the region for such a future earthquake. PEER is a partner in the HayWired Coalition because PEER recognizes that the HayWired scenario creates a platform, or plausible basis, by which research can dig deeper into developing solutions to problems that are posed by the scenario, with the aim of shortening the region's recovery time.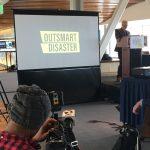 The HayWired Campaign is led by the CA Seismic Safety Commission and the CA Business, Consumer Services and Housing Agency, and serves as a call to action for statewide engagement to strengthen business and lifelines resilience and to reduce risk from then earthquake like that modeled in the HayWired scenario. More information on this initiative can be found at the website https://outsmartdisaster.com.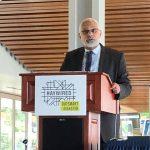 In the afternoon, a press conference was held at the University Club located at the top of Memorial Stadium. HayWired researchers gave an overview of the scenario, followed by a series of responses from leaders, partners, and sponsors. The evening concluded with the Lawson Lecture where the HayWired researchers provided the overview of the scenario to the general public, followed by a question and answer session.
The USGS-led HayWired scenario team is building on the engineering analyses to further explore the societal consequences of the M7.0 earthquake, and the results are anticipated in October 2018. These issues include impacts on information and communications technology, risks to infrastructure and lifeline networks, community recovery including population displacement and social vulnerability, effects on jobs and the regional economy, and earthquake early warning.
PEER looks forward to additional HayWired results to be released in October, and will continue to engage the academic, research, and practitioner community with the statewide initiative.