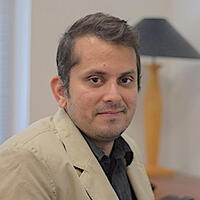 The American Institute of Steel Construction has awarded its 2022 T.R. Higgins Lectureship Award to Amit Kanvinde, PhD, professor of civil and environmental engineering at the College of Engineering at University of California, Davis. The T.R. Higgins Lectureship Award recognizes an innovative lecturer or author whose outstanding technical writing constitutes a ground-breaking addition to engineering literature on fabricated structural steel. Professor Kanvinde is a PEER researcher and a member of the PEER Research Committee. He recently moderated a session of the PEER Researchers' Workshop in August 2021.

Kanvinde will present "Column Base Connections: Research, Design, and a Look to the Future" as a keynote speaker during NASCC: The Steel Conference, which will take place March 23-25, 2022 in Denver, Colorado. He will share his findings from 15 years of research into the behavior, design, and structural interactions of various types of connections, including exposed, slab-overtopped, and embedded connections.

In addition to his contributions to the understanding of fixed column bases, Kanvinde is a member of AISC's Connection Prequalification Review Panel (CPRP) and the Committee on Research as well as an ad hoc committee on box columns. In 2017, AISC awarded Kanvinde a Special Achievement Award for his research on column connection details including requirements for column splices.

Read more from AISC.