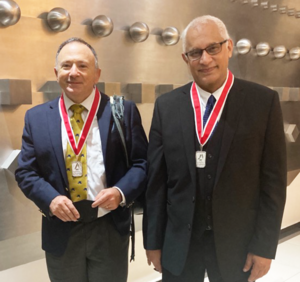 La Academia De Ingenieria of Mexico inducted Khalid M. Mosalam and Eduardo Miranda as corresponding members on June 9, 2022, for their lifetime contributions to Earthquake Engineering.
During the induction ceremony Khalid Mosalam, PEER Director and Taisei Professor of Civil Engineering, Department of Civil and Environmental Engineering at the College of Engineering at University of California, Berkeley, made a presentation of a recent project entitled "Bridge Rapid Assessment Center for Extreme Events (BRACE2): An Artificial Intelligence Framework for Structural Health Monitoring of Instrumented Bridges."
Eduardo Miranda, Professor of Civil and Environmental Engineering at Stanford University, PEER researcher and member of the Research Committee, made a presentation entitled "Direccionalidad de la Intensidad Sismica del Movimiento Horizontal." (Directionality of the Intensity of Horizontal Ground Motions).
Links to the presentations and the whole event are provided here: https://www.youtube.com/watch?v=cMtZfgi6CaE.