The impact of a PEER funded research project "Development of a Database and a Toolbox for Regional Seismic Risk Assessment of California's Highway Bridges" is highlighted below. The project Principal Investigator is Ertugrul Taciroglu, Professor, UCLA. The research team includes Barbaros Cetiner, Graduate Student Researcher, UCLA and Peng-Yu Chen, Graduate Student Researcher, UCLA.
Download the Research Project Highlight which includes the abstract. (PDF)
Research Impact: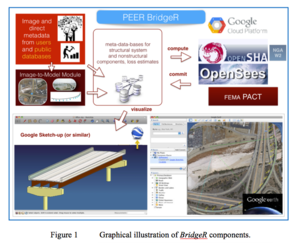 Once publicly launched, the database and its seismic app BridgeR will have the potential to grow and evolve with contributions from many users due to its open-access architecture and open-source building blocks. The resulting bridge-specific seismic safety/loss information can be used by decision makers who play integral roles in managing seismic risks. That is, government policymakers can better prioritize critical bridges for retrofits; and emergency first-responders can better prepare, plan, and react to a powerful earthquake if they know where the greatest structural damage is most likely to occur.