The impact of a PEER funded research project "Leveraging Leading Indicators for Wildfire Risk Reduction" is highlighted below. The project Principal Investigator (PI) is Rune Storesund, Executive Director, Center for Catastrophic Risk Management, UC Berkeley. The research team includes Karlene Roberts, Director, Center for Catastrophic Risk Management, UC Berkeley, and Khalid Mosalam, Director, PEER.

Download the Research Project Highlight which includes the abstract. (PDF)
Research Impact:
There is increasing recognition of the need to assess consequences and identify priority risk-based solutions to increase the resilience of California's interdependent energy and other critical infrastructures to climate change-driven extreme weather events. This requires gaining infrastructure operator and public support to make the necessary investments for often costly and long-term upgrades, building new or more resilient infrastructure, and economic, environmental, and other policy and regulatory changes. Securing this support and enabling informed decision-making requires a "whole sector and multi-stakeholder approach" that engages and takes into account the needs of key private and public sector customers, as well as the implications for public health and safety, regional economies, and overall societal well-being.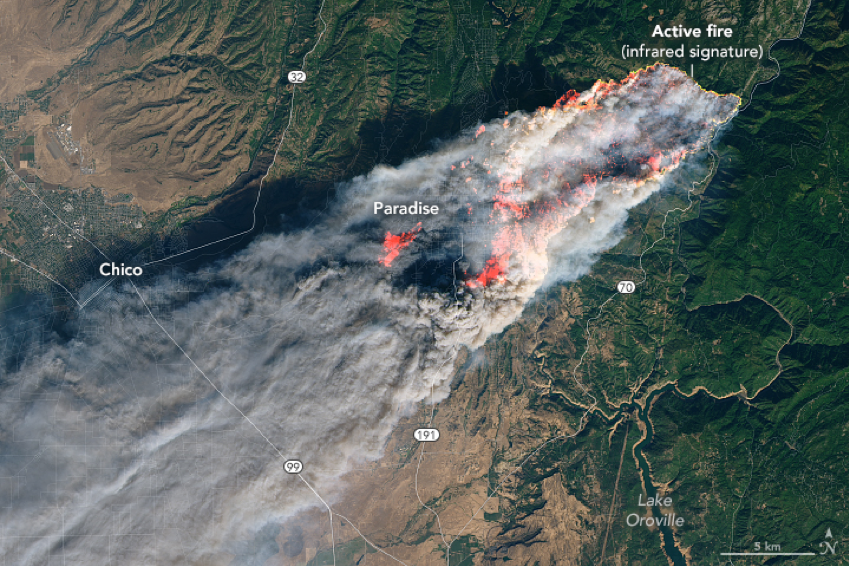 Image from NASA's Earth Observatory showing the extents of the 2018 Camp Fire.
(Source: https://visibleearth.nasa.gov/images/144225/camp-fire-rages-in-california/144225t)