The impact of a PEER funded research project "New Seismically Resilient System for HSR, Ports and Vehicular Transportation Systems: Reducing Downtime, Construction Cost and Post-Earthquake Repair" is highlighted below. The project Principal Investigators (PIs) are Dawn Lehman, Civil & Environmental Engineering, University of Washington, and Charles Roeder, Civil & Environmental Engineering, University of Washington. The research team includes Zhao Muzi, Ph.D. Candidate.
Download the Research Project Highlight which includes the abstract. (PDF)
Research Impact: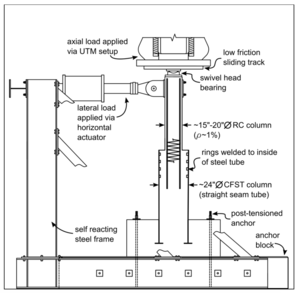 Although it is not possible to estimate the cost savings to future project, it is possible to illustrate the potential cost savings, both in terms of material and labor. Prior research shows that using CFST components in place of RC components can decrease the material required by 30-60%. Contractors indicate that the comparable cost savings is directly related to the material saved. An additional benefit that will result from this research project is eliminating the need for an internal reinforcing bar cage for CFST shafts. These cages are currently used to transfer the load from the bridge pier to the shaft. With the results from this project, this internal cage could be eliminated, which would be a substantial material and cost savings. As an illustration, consider a typical 60' long, 8'-0" diameter shaft which would normally have roughly 50,000 lb. of rebar for the internal cage.  The cost to fabricate, handle with large cranes, and set into the shaft would be on the order of $75,000 to $100,000 dollars.  Eliminating the shaft and using the shaft casing for flexural and shear strength would not only eliminate the rebar but also the need for a large crane to pick the constructed rebar cage and set it in the hole. There are several bridge, HSR and port projects that will be constructing shafts that could take advantage of this technology.