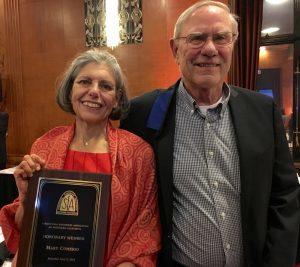 The Structural Engineering Association of Northern California (SEAONC) honored PEER researcher Mary Comerio during the June 2018 Awards dinner meeting. SEAONC President Taryn Williams bestowed the Honorary Membership to Mary Comerio, Professor of Architecture at UC Berkeley.  William (Bill) Holmes, Senior Consultant and Past Principal at Rutherford + Chekene Engineers, provided Comerio's introduction.
A recipient for the SEAONC Honorary Membership "shall be a person so designated by the Board of Directors in special recognition of the person's contribution to the excellence of the structural engineering profession."
Mary Comerio is an internationally recognized expert on disaster recovery. She joined the faculty in the Department of Architecture at UC Berkeley in 1978 and served as chair of the Department from 2006-2009. As an architect, she has designed numerous public and private facilities, including market rate and affordable housing. Her research focuses on the costs and benefits of seismic rehabilitation (particularly housing), post-disaster recovery and reconstruction, and loss modeling. She is the author of Disaster Hits Home: New Policy for Urban Housing Recovery. In 2011, she received the Green Star Award from the United Nations for her work in post-disaster reconstruction in China and Haiti. In 2013, she received the UC Berkeley Chancellor's Award for Public Service for Research in the Public Interest, and the EERI Distinguished Lecturer Award.
Professor Comerio led the FEMA-sponsored Disaster Resistant University Program. Her research, together with the UC Berkeley campus seismic rehabilitation program, was recognized by Engineering News Record as one of the ten best seismic-planning projects in the United States in 2006. Comerio also led the Building Systems Research at PEER, during the ten years when PEER was one of three NSF-funded national earthquake centers. Comerio was co-PI on the NSF Grand Challenge project focused on the mitigation of collapse risk in nonductile concrete buildings. She led the PEER/EERI reconnaissance teams to earthquakes in New Zealand and conducted a review of the housing recovery in Chile for the Ministry of Housing and Urban Development and the United Nations Development Program.  Comerio has authored numerous PEER reports.
During her acceptance speech at the SEAONC Awards meeting, Mary Comerio acknowledged the support of engineering colleagues Dan Shapiro, Jack Moehle, Steve Mahin, Helmut Krawinkler, Allin Cornell, and Bill Holmes.