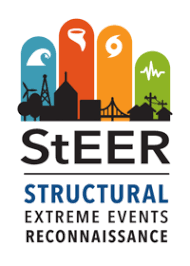 The Structural Extreme Events Reconnaissance (StEER) Network has issued a Preliminary Virtual Reconnaissance Report (PVRR) for the Mw 6.8 Earthquake that occurred in Oukaïmedene, Morocco, on September 8, 2023.
The earthquake was followed by several aftershocks, including a magnitude Mw 4.9 aftershock that occurred 19 minutes after the mainshock. The earthquake resulted in nearly 3,000 casualties and damaged or collapsed tens of thousands of structures. This earthquake was not only the strongest in Morocco in the past century, but it also resulted in shaking beyond the Design Basis Earthquake (DBE) level in Morocco.
StEER activated a Level 1 response to this earthquake and formed a Virtual Assessment Structural Team (VAST) to assemble this Preliminary Virtual Reconnaissance Report (PVRR), intended to: Overview the 2023 Morocco earthquake and its impact on the built environment; Summarize the codes, regulations and construction practices in the affected area; Synthesize preliminary reports of damage to structures; Recommend priorities for continued study and action. This project encompasses the products of StEER's Level 1 response to this event: Preliminary Virtual Reconnaissance Report (PVRR) with corresponding Media Repository.
The PVRR can be found here.
Visit the StEER website (https://www.steer.network for more information on this and other natural hazard event responses, StEER's statement about the Coronavirus-19 pandemic, as well as to "join StEER" to stay connected with StEER activities.