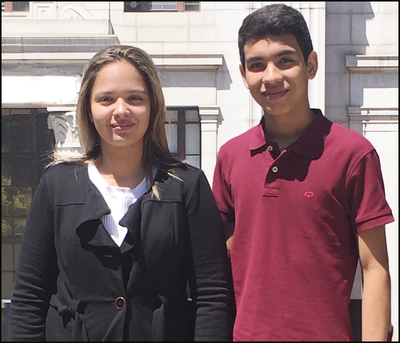 The Pacific Earthquake Engineering Research Center is pleased to offer exciting opportunities for students to explore new directions in earthquake engineering studies and research. This summer, the PEER Internship Program provides a unique opportunity for two outstanding undergraduate students from the Universidad del Norte (UNINORTE)to participate in state-of-the-art research.
Internship participants are paired with a faculty advisor and a graduate student mentor. Students will learn how to conduct independent research and will get the opportunity to participate as a member of a research team.
PEER welcomes 2019 Summer Interns Veronica Jesus Abuchar Soton and Pedro Javier Gonzalez Prado.

Veronica is working on a project to fit the typology of reinforced concrete frames with unreinforced masonry infill walls into the PEER performance-based engineering methodology. She is working with Jorge Archbold, Ph.D. candidate, and Professor Khalid Mosalam. She is also receiving training on a PEER lab ballistic apparatus and working on a safety protocol document.

Pedro is investigating the behavior of small scale concrete beams with minimum shear reinforcement. He is testing specimens in the civil engineering laboratory, and he is working with Margaret Stack, Ph.D. candidate, and Professor Jack Moehle. The results of his work will be used as the experimental research program on this topic continues in the future.