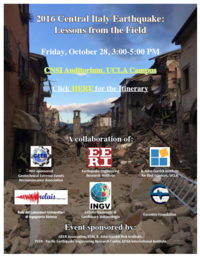 NSF-Sponsored GEER Association, B. John Garrick Risk Institute, EERI, PEER, and UCLA International Institute will co-sponsor a reconnaissance briefing of observations from the August 24, 2016, Central Italy Earthquake. Participants include Jonathan P. Stewart, GEER team leader & PEER faculty; Paulo Zimmaro, GEER team member & PEER researcher; and Silvia Mazzoni, EERI reconnaissance team member & PEER researcher.
Date: Friday, October 28, 2016
Time:3 – 5 pm (PST)
Venue: CNSI Auditorium, UCLA.
| | |
| --- | --- |
| 3:00-3:05 pm | Opening Remarks. Representing Consul General Antonio Verde, Valentina Gambacorta, Commercial Attache, Office of Italian Consul General |
| 3:05-3:10 pm | Overview of seismic sequence and reconnaissance activities. Jonathan P. Stewart, GEER Team Leader |
| 3:10-3:20 pm | Regional tectonics and geology. Surface fault rupture. Stefano Gori and Emanuela Falcucci (via video), INGV L'Aquila, GEER Team Members; Robert E. Kayen, USGS and UCLA, GEER |
| 3:20-3:35 pm | Finite fault model and ground motions. Paolo Zimmaro, UCLA, GEER Team Member |
| 3:35-3:55 pm | Applications of drone-based imagery. Earthquake-induced landslides. Kevin Franke, BYU, GEER Team Member |
| 3:55-4:05 pm | Performance of bridges. Luigi Di Sarno (via live-stream), University of Sannio, ReLuis Team Member |
| 4:05-4:20 pm | Building construction typologies. Damage classification and regional performance. Detailed damage pattern documentation. Andrea Penna and Guido Magenes, University of Pavia, EUCentre team leaders; Maria Giovanna Durante, University of Sannio, GEER Team Member; Anatasios Sextos, University of Bristol (via video), GEER Team Member |
| 4:20-4:40 pm | Building retrofit policy and effectiveness. Silvia Mazzoni, UC Berkeley, EERI Team Leader, Luigi Sorrentino (via video), University of Rome, La Sapienza, ReLuis Team Member |
| 4:40-4:50 pm | Emergency response and recovery. Silvia Mazzoni, UC Berkeley, EERI Team Leader; Angelo Masi (via video), University of Basilcata, ReLuis Team Member |
| 4:50-5:00 pm | Lessons learned and next steps. Jonathan P. Stewart, GEER Team Leader |