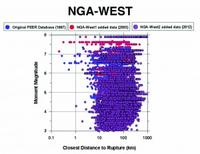 The PEER NGA-WEST project received a 2015 Excellence in Structural Engineering Award from the Structural Engineers Association of California (SEAOC) for outstanding achievement in the development of ground motion models and databases that have major impacts on structural engineering practice and research.  PEER initiated and coordinated the NGA-WEST Project for shallow crustal earthquakes, such as those in California, in two phases: NGA-West1 (2003-2008), and NGA-West2 (2010-2014).  In the NGA-WEST project, the multi-disciplinary PEER community developed the world's largest uniformly processed earthquake ground motion database and a set of ground motion models for applications in seismic analysis, design, evaluation, and loss estimating.
The NGA-WEST database of over 60,000 recorded earthquake ground motions is a very popular resource available free at http://peer.berkeley.edu/ngawest2/, and it is used regularly by the global community of design engineers, building officials, peer reviewers and researchers engaged in the seismic analysis, design and evaluation of civil engineering structures ranging from buildings, bridges, dams, and power plants.
The NGA-WEST project also developed ground motions models that were adopted by the US Geological Survey to update the National Seismic Hazards Maps for the western US. Site amplification investigations developed in the modeling resulted in a change to site coefficient factors Fa and Fv in the NEHRP/ASCE provisions, which is the basis for future building codes.  Additionally, the improved database and ground motion attenuation models provide the best available science for the estimation of seismic financial loss estimates, and they are used as a basis to set earthquake insurance premiums.
The NGA-WEST project demonstrates how the earthquake engineering community can benefit from the open and full engagement of practitioners and researchers from many disciplines, resulting in major advances in seismic hazard estimation for the western US. For more information please contact Dr. Yousef Bozorgnia at yousef@berkeley.edu.