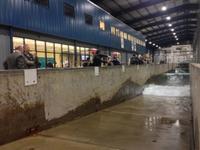 On December 10-12, 2014, Oregon State University hosted a PEER-sponsored tsunami modeling workshop to discuss the results of a simulation benchmark study by Japan's Public Works Research Institute (PWRI).
The workshop was designed to carefully review the present status and capability of prediction models on bridge-tsunami interactions. After the 2011 East Japan Tsunami, PWRI performed a series of well-controlled laboratory experiments to investigate tsunami forces and pressures on a variety of bridge superstructures. Using the PWRI benchmark study, key modelers at the PEER workshop discussed numerical strategies and methods in detail, so as to improve the modeling reliability and capability.
More details on the workshop, including linked presentations, are available on the Oregon State University website.