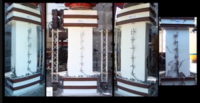 In recent tests at the nees@berkeley lab, researchers explored design and performance limits for structural walls considering both conventional and innovative wall construction practices. Watch project video
A principal finding of recent earthquakes and tests is that wall performance is limited by stability and ductility capacity of the flexural compression zone. For conventional walls, the objective of this project is to establish, through tests and analyses, the minimum requirements for wall thickness and confinement reinforcement. Recognizing conflicts between these minimum seismic performance requirements and programmatic requirements for modern buildings, the project is also exploring use of innovative designs to achieve target performance through use of innovative materials and wall configurations.
The research is a collaborative effort among researchers at UCLA and UC Berkeley. Collaboration with Japanese partners conducting full-scale shaking table tests on the E-Defense shaking table is also one of the objectives of the project.
These experimental research tests at nees@berkeley are part a project titled "Performance of Conventional and Innovative Special Structural Walls" funded by a NEES-R award.
A filmed interview with researcher Carlos Arteta has been overlaid with test footage, and is now available for viewing on PEER's YouTube Channel.