A quasistatic test will be conducted on February 10, 2014 in the Nees at Berkeley laboratory at the Richmond Field Station on a full scale, two-story pre-1988 steel concentrically braced frame. Testing is expected to start around 1:00 pm and continue for at least 3-5 hours.
The test on February 10 will be the second experimental test done in the Nees at Berkeley lab for this study, exploring the adequacy of existing braced frames designed prior to the 1988 Uniform Building Code and their ability to resist seismic demands. The second test involves the repair of the first braced frame tested in October of 2013, replacing the damaged second story braces and gussets with the same sections and sizes, while adding net section reinforcement at all brace connections. The braces have been filled with low strength concrete to address the early fracture observed during the first test, to explore unobserved avenues of damage that were outweighed by the braces' early fracture.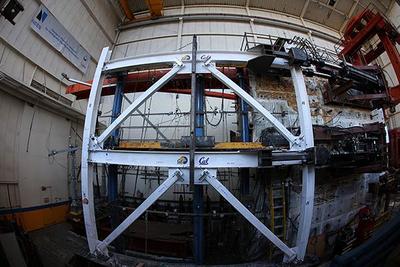 This test is a part of the George E. Brown Network for Earthquake Engineering Simulation Research (NEESR) project Collaborative Developments for the Seismic Rehabilitation of Vulnerable Braced Frames that is being led at the University of Washington by Principal Investigator Dr. Charles W. Roeder, with co-investigators Dr. Jeffrey Berman at the University of Washington, Dr. Dawn Lehman at the University of Washington, and Dr. Stephen A. Mahin at the University of California, Berkeley. The Nees at Berkeley tests are conducted by PhD student, Barb Simpson, with the support from post-doctoral researcher, Jiun-Wei Lai. This research is funded by the National Science Foundation (NSF).