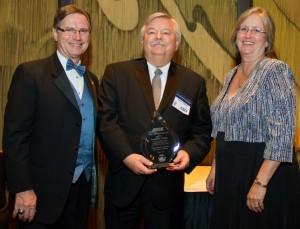 Professor Stephen Mahin, Director of the PEER Center, has been inducted in the Offshore Technology Conference Hall of Fame by American Society of Civil Engineers (ASCE). He is being inducted for a paper he wrote with E.P. Popov and V.A. Zayas, titled, "Seismic Behavior in Tubular Steel Offshore Platforms" in 1980.
Authors are inducted into the Hall of Fame for papers that offer innovation, vision, direction, and lasting impact on the design, construction or installation within the offshore industry. Many have straddled the divides to become an integral part of the design process of other categories of structures, such as buildings and bridges. Even though many papers were presented at OTC conferences thirty or more years ago, they still form the core of current practice worldwide.
Professor Mahin was officially inducted during the Sixth Annual ASCE/OTC Hall of Fame Gala on May 3, 2011.