The new PEER Bridge PBEE analysis Graphical User Interface (BridgePBEE) Beta Version is now available!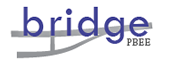 BridgePBEE was created to facilitate the execution of a full Performance-Based Earthquake Engineering (PBEE) analysis within the relatively simple environment of a 2-span single-column bridge, supported on a ground soil mesh.  It is the first GUI software that greatly facilitates execution of the entire PBEE framework within the area of Highway Bridges.
The three-dimensional (3D) finite element computations in BridgePBEE are conducted using OpenSees platform developed by PEER.  By using OpenSees for the numerical analysis, BridgePBEE has powerful and unique nonlinear dynamic response assessment capabilities for both the structure and the soil domains.  It includes Soil-Structure interaction, based on representation of the ground by a full 3D Finite Element nonlinear framework.
Available analysis options in BridgePBEE include:
1. Pushover Analysis
2. Base Input Acceleration Analysis
3. Full Performance-Based Earthquake Engineering (PBEE) Analysis
The PEER Bridge PBEE analysis user interface Beta Version is free to use and is easily accessible at:
BridgePBEE website.
Academicians, graduate students, and engineers in industry are encouraged to trial BridgePBEE.  For more information about the use of BridgePBEE, visit the BridgePBEE Copyright page.
Visit the BridgePBEE website to view and download more information including the executable software, and the user's manual.