The 15th World Conference on Earthquake Engineering hosted over 3200 delegates from 80 countries from September 24-28, 2012 in Lisbon, Portugal. Approximately 3600 papers were presented (orally, electronic and standard posters). 
Prof. Mosalam & Heidi Tremayne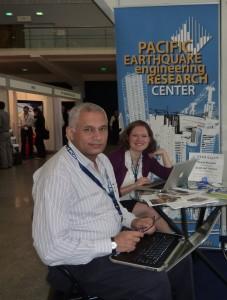 PEER research was prominently on display during the conference with over 40 papers submitted to the conference by PEER funded-researchers. Download the full list of 15WCEE papers by PEER Researchers (Excel file, 44 KB).
The PEER display booth was also a regular meeting location for PEER researchers throughout the conference. Students and faculty alike, frequently visited the booth to meet and share ideas with their American and international colleagues. The booth also highlighted PEER research via handouts and a video stream of PEER's research projects (watch these videos at the PEER YouTube Channel) for those conference attendees unaware with the full breath of PEER research topics.
In addition to informal gatherings at the booth, for the first time, PEER coordinated special sessions during the conference coffee breaks called 'Meet a PEER Expert: Q&A and Demonstration Sessions.' These sessions hosted a range of researchers, including the following list:
Yousef Bozorgnia (PEER), "Meet & Greet with PEER's Executive Director"
Jack Moehle (UC Berkeley), "Ask Prof. Moehle about PEER's Tall Building Initiative and Nonductile Concrete Grand Challenge Projects"
Tim Ancheta (PEER and RMS), "Demonstration of PEER's Ground Motion Database"
Mary Comerio (UC Berkeley) & Judith Mitrani-Reiser (Johns Hopkins), "Join an informal discussion about Earthquake Resiliency"
Kevin Mackie (U of Central Florida), "Demonstration of BridgePBEE – PEER's new PBEE interface for Bridges"
Khalid Mosalam (UC Berkeley) & Shakhzod Takhirov (nees@berkeley), "Learn about the nees@berkeley
PEER booth at the 15WCEE