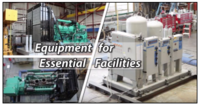 The PEER-UC Berkeley lab at the Richmond Field Station partners with private industry and performs shaking table testing of critical equipment—emergency power generators, air handlers, electrical switchgear—under varying earthquake excitations. The shaking table testing is performed to ensure compliance with seismic regulations and to confirm the effectiveness of seismic retrofit strategies with the goal of reducing damage and injury in the event of an earthquake.
PEER labs offers seismic qualification testing in accordance with AC-156 which outlines acceptance criteria for seismic certification by shaking table testing of non-structural components, and in accordance with standard IEEE 693 for electrical switchgear components and their supporting substructures, anchorage assemblies and connections.
The PEER Lab Highlight – Service to Industry & Seismic Qualification Testing video is now available for viewing.
See more videos on PEER's YouTube Channel.