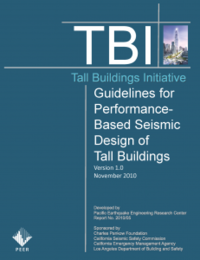 The jury commissioned by ATC-SEI for the 2015 Champions of Earthquake Resilience Awards Program has selected PEER and the Los Angeles Tall Buildings Structural Design Council as the joint recipient of an ATC-SEI Award for an "Exceptional Public- and Private-Sector Research and Development (R&D) Program" for "Tall Building Seismic Design Guidelines."
Tall Buildings Initiative – Guidelines
A building boom in the period 2000-2005 involved the design of many buildings that were taller than what is covered in the provisions of the prescriptive building code. Because these taller buildings fell beyond the provisions of the code, they were each being designed with its own criteria. Recognizing the need to provide consistency, as well as to facilitate the approval processes, PEER began its Tall Buildings Initiative (TBI). This initiative was founded on the underlying concepts, methodologies and tools developed by PEER for performance-based earthquake engineering.
The TBI brought together a broad array of researchers, practitioners, and stakeholders to explore performance objectives, conduct research on building response and performance characteristics, and develop the TBI "Guidelines for Performance-Based Seismic Design of Tall Buildings". Additionally, practical guidance for analysis and acceptance criteria was developed in conjunction with and co-published with ATC as "Modeling and Acceptance Criteria for Seismic Design and Analysis of Tall Buildings" (ATC-72). The TBI Guidelines and supporting documents, developed by the project team led by Jack Moehle and Ron Hamburger, are widely used today in the performance-based design of tall buildings in California and worldwide.
The TBI was accompanied by related developments in San Francisco and Los Angeles. For example, San Francisco's AB-83, "Requirements and Guidelines for the Seismic Design of New Tall Buildings using Non-Prescriptive Seismic-Design Procedures" was developed and released in 2008, and "An Alternative Procedure for Seismic Analysis and Design of Tall Buildings Located in the Los Angeles Region' was developed by the Los Angeles Tall Buildings Structural Design Council in 2005. However, it was the TBI Guidelines and ATC-72 that for the first time fully described and guided the overall design and review process because it considered performance under serviceability, design level, and maximum considered earthquake (MCE) seismic hazard levels.
Since its publication in 2010, the TBI Guidelines has become the most widely used reference for performance-based seismic design and review of tall buildings in the United States and worldwide. The TBI Guidelines was accompanied by a case study report detailing the design, cost, expected response, and expected life cycle costs of buildings designed with the TBI Guidelines and then designed with the prescriptive codes. These studies, and the many buildings designed since the release of the TBI Guidelines, demonstrate that the TBI Guidelines are an effective design tool for achieving buildings of excellent performance. Although targeted at code equivalence for Occupancy Risk Category 2, the case studies and the many buildings designed with the TBI Guidelines exhibit superior performance expectations with greater reliability than buildings designed with prescriptive means.
The TBI has been extended to consider existing tall buildings, and efforts are currently underway to update the Guidelines for new tall buildings.
The TBI Guidelines can be downloaded from http://peer.berkeley.edu/publications/peer_reports/reports_2010/web_PEER2010_05_GUIDELINES.pdf.
More information about the Tall Buildings Initiative Research Program can be found at https://peer.berkeley.edu/research/building-systems/tall-buildings-initi....