The impact of a PEER funded research project, "Next Generation Liquefaction (NGL) Project," is highlighted below. The project Principal Investigator (PI) is Jonathan P. Stewart, Professor and Chair, Civil & Environmental Engineering, UCLA. The research team includes Dong Youp Kwak, Post Doctoral Scholar, UCLA,  Steven L. Kramer, Professor, University of Washington (collaborative project leader), and Jonathan D. Bray, Professor, UC Berkeley (collaborative project leader).
Download the Research Project Highlight which includes the abstract. (PDF)
Research Impact: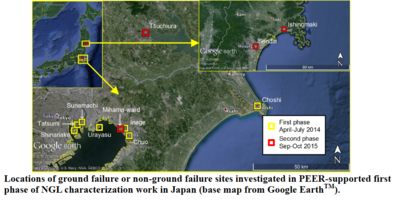 This project and others to follow are part of a broad effort that will fundamentally re-define how liquefaction research is undertaken and how liquefaction effects are modeled in practice. The data products will see broad application by researchers, akin to how the NGA databases are an industry standard for ground motion research. Likewise, the NGL models will rapidly become the standard of practice once published.