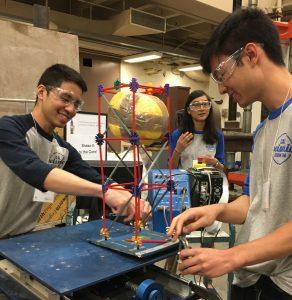 PEER's Shake it to the Core exhibit at this year's Cal Day 2017 was a great success and attracted over fifty participants despite the early morning start time.
Visitors to the UC Berkeley Davis Hall lab had fun designing and building K'nex towers and watching to see if they could withstand the earthquake simulator shake table.
Students from the Cal Seismic Design Team were also on hand to assist participants with their designs and to share their student experiences with the next generation of new and prospective engineering students.