The Center on Urban Earthquake Engineering (CUEE) hosted their 9th International Conference on Urban Earthquake Engineering (9th CUEE) from March 6-8, 2010 in conjunction the 4th Asia Conference on Earthquake Engineering (4th ACEE). This year's conference included state-of-the-art technical presentations on various themes relevant to urban earthquake engineering, and special sessions on the recent March 11, 2011 Tohoku Pacific Earthquake and Tsunami that resulted in catastrophic damage in northeast Japan and an estimated death toll of about 20,000.
One of primary goals of CUEE is to encourage next-generation practitioners and researchers who themselves must develop new strategies and practices for seismic risk reduction. With this aim, CUEE organized, hosted and sponsored a Young Researcher Workshop on March 5th, the day before the start of the main conference, to encourage research collaboration amongst young researchers in Japan and the United States. Six students from PEER Core Institutions were nominated participate in this workshop and to have their attendance to the conference funded by CUEE:
• Sam Sideras, University of Washington
• Dong Youp Kwak, UC Los Angeles
• Catherine Whyte, UC Berkeley
• Deepak Rayamajhi, Oregon State University
• Scott Swensen, Stanford
• Vesna Terzic, PEER Center
During the Young Researcher Workshop, over 30 student and young faculty researchers from Japan, the United States and several other participating countries, joined in wide variety of activities and events including oral presentation sessions, a tour of the Kajima Technical Institute, a tour of the Energy Environment Innovation building at Tokyo Institute of Technology's Ookayama Campus, and a group dinner in Oimachi.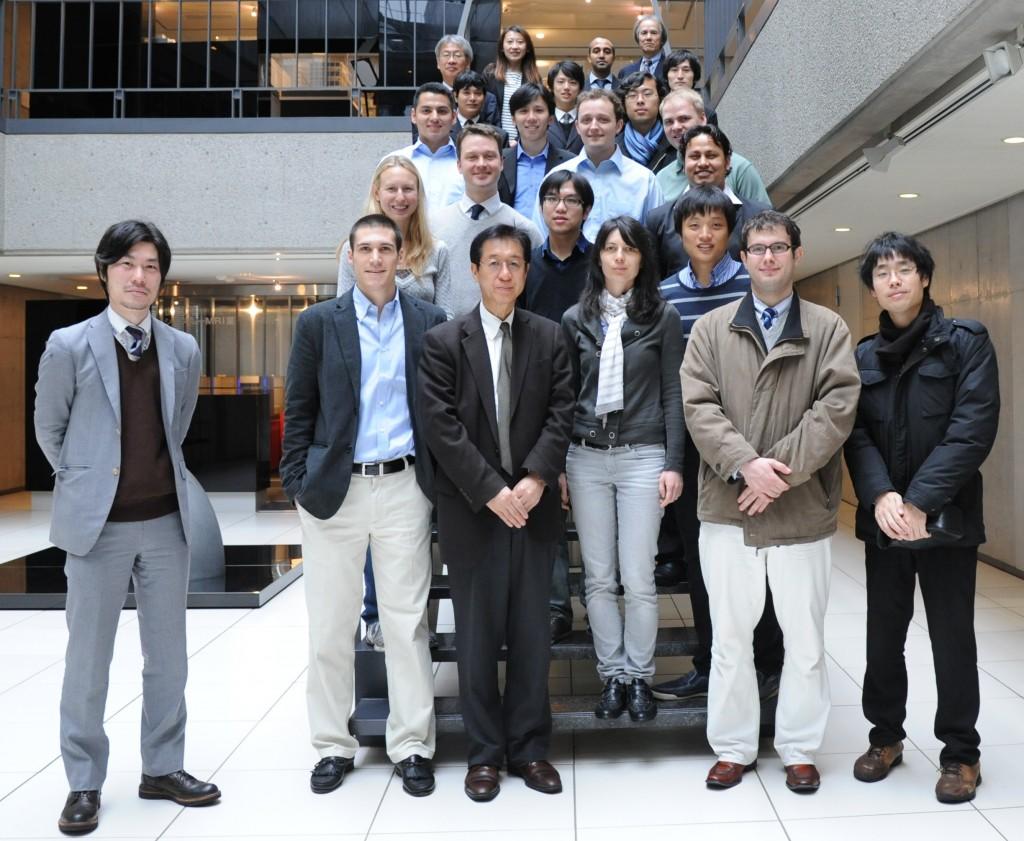 The Kajima tour participants gather for a photo.
EEI group photo.
At the full conference from March 6-8, the participating young researchers presented posters of their research work. As stated by Professor Stephen Mahin, PEER's Director, "CUEE meetings are unique in that they have not only high technical content, but also high energy and enthusiasm that comes by integrating younger researchers into the event."
PEER sends its congratulations to Samuel Sideras at University of Washington who won the Best Presentation Award for Young Researchers in Geotechnical Engineering for his PEER project titled, "Potential Implications of Long Duration Ground Motions on the Response of Liquefiable Soil Deposits." View a full winners list for the Best Presentation Award for Young Researchers.
CUEE also provided generous travel grants to the following PEER faculty members:
• Jonathan Stewart, UC Los Angeles
• Greg Deierlein, Stanford
• Michael Olsen, Oregon State University
• Daniel Pradel, UC Los Angeles
• Ross Boulanger, UC Davis
• Stephen Mahin, UC Berkeley
PEER thanks CUEE for another great conference on urban earthquake engineering!