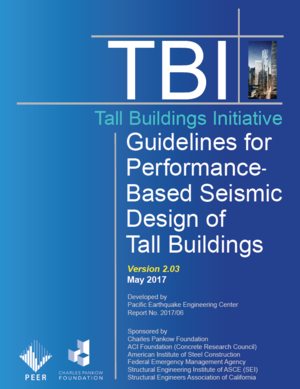 PEER  has just published Report No. 2017/06 titled: "Guidelines for Performance-Based Seismic Design of Tall Buildings," Version 2.03, prepared by a TBI Working Group led by co-chairs Ron Hamburger and Jack Moehle: Jack Baker, Jonathan Bray, C.B. Crouse, Greg Deierlein, John Hooper, Marshall Lew, Joe Maffei, Stephen Mahin, James Malley, Farzad Naeim, Jonathan Stewart, John Wallace.
This report was sponsored by the Charles Pankow Foundation with additional financial and/or in-kind support provided by ACI Foundation (Concrete Research Council), American Institute of Steel Construction, Federal Emergency Management Agency, Structural Engineering Institute of ASCE (SEI), and the Structural Engineers Association of California.
Visit the PEER publications page to download a free color pdf of the document.