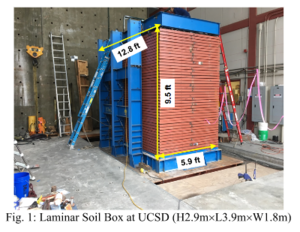 PEER is pleased to issue this pre-announcement for a blind prediction competition on the numerical simulation of a recently completed large-scale liquefaction shaking table experiment.
As a part of this PEER-funded project, a large-scale shaking table test was recently conducted at UCSD's Powell Laboratory using the 2.9 meter tall soil laminar box. The experiment focused on the response of shallow foundations in liquefied soils.
You can find some information about the project here:
Shake Table Tests on Shallow Foundations in Liquefied Soils Supported on Helical Piles
For additional information, please contact Dr. Ramin Motamed, Associate Professor, University of Nevada Reno.
Both research and practicing engineering communities will be encouraged to participate in this exciting competition.  More information about the contest will be provided soon.