Many PEER-affiliated researchers participated at the 11th National Conference on Earthquake Engineering held in Los Angeles, California, on June 25 – 29, 2018.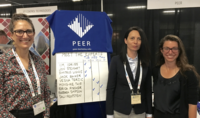 MEET THE EXPERTS
The PEER exhibit booth was well attended, with scheduled "Meet the Expert" sessions held during the morning and afternoon breaks, as well as impromptu gatherings with researchers and practitioners. Scheduled experts included Dimitrios Lignos, Jack Baker, Jonathan Stewart, IM Idriss, Vesna Terzic, Erica Fisher, Barbara Simpson, Tali Feinstein, Hong-Kie Thio, and Selim Gunay.
PRESENTATIONS
Over a dozen faculty, post-docs, and students presented their work on PEER-funded research. Additionally, over 70 PEER-affiliated researchers from PEER core institutions as well as other institutions throughout the world presented and shared posters during the conference.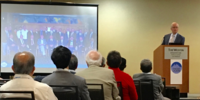 A special session, "Steve Mahin Retrospective," was held Thursday morning, in honor of former PEER Director Mahin. The session was moderated by Jim Malley (Degenkolb Engineers) and Jack Moehle (UC Berkeley, former PEER Director). Speakers included Mahin's first Ph.D. student as well as his most recent Ph.D. students. Members of the audience were also invited to share their memories of Steve.
Norm Abrahamson, UC Berkeley, delivered Wednesday's Plenary Session Presentation, "What Changes to Expect in Seismic Hazard Analyses in the Next 5 Years."
Grace Kang, PEER, gave a presentation about the HayWired Coalition - a communications strategy supporting the USGS-led HayWired Earthquake scenario, leading up to the public rollout and press conference event held on April 18, 2018.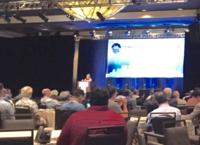 Maryann Phipps, Estructure, delivered Thursday's Plenary Session Presentation, "Seismic Risk: Towards Performance-Based Construction – Better Buildings by Design," and mentioned the broad range of analysis results recently illustrated by submittals to the 2017 PEER Blind Prediction Contest.
Selim Gunay, PEER, presented "Deep Residual Network with Transfer Learning for Image-based Structural Damage Recognition," and introduced the PEER PHI Challenge that will have more details announced July 15, 2018.  Download the "PEER-11NCEE Participation" compendium PDF [255KB].