The impact of a PEER funded research project, "Analysis of Fine-Grained Soil Failure in Chiba During 2011 Tohoku Earthquake, and Development of Community Lab Test Database" is highlighted below. The project Principal Investigators (PI) are Scott J. Brandenberg, Professor and Associate Dean, Department of Civil and Environmental Engineering, UCLA, and Jonathan P. Stewart, Professor, Department of Civil and Environmental Engineering, UCLA. The research team includes Claudia Rangel, Graduate Student Researcher, UCLA and Paolo Zimmaro, Project Scientist, UCLA.

Download the Research Project Highlight which includes the abstract. (PDF)
Research Impact: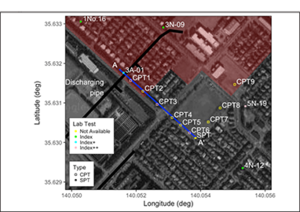 There will be two primary benefits to practice that result from the proposed work. First, the Mihama Ward case history is very valuable and will shed light on liquefaction susceptibility and triggering evaluation procedures for fine-grained soils. This is currently an area of confusion among practice due to disagreements regarding the plasticity characteristics that render a soil susceptible to liquefaction triggering. The Mihama Ward case history is unique due to the range of plasticity characteristics present at the site, and the manner in which damage observations map spatially in relation to those plasticity characteristics.
Second, the proposed database will be a very useful resource for practitioners. Many projects lack the budget for cyclic laboratory testing, even though researchers agree that laboratory testing is currently the best way to assess cyclic strength loss potential for fine-grained soil. We anticipate the database will grow over time, and ultimately become a community resource. Practitioners will undoubtedly benefit from this resource, enabling them to make better decisions regarding strength loss potential for the soils they encounter in their projects.