Observations & Photos from University of California Reconnaissance Team (PDF file - 15 MB)
The University of California Office of the President supported a team of researchers to conduct reconnaissance from July 4 - 7, 2008 in several cities affected by the Wenchuan Earthquake. This document, complied by Khalid Mosalam and Nicholas Sitar from UC Berkeley, includes images and commentary on buildings, bridges, dams, schools, faulting, landslides, slope stabilization, and tunnels. It also provides some examples of good vs. poor performance, catalogs some reconstruction materials and procedures, and draws some conclusions about the elements that caused failure and collapse during the earthquake.
Posted July 22, 2008
Report by Miyamoto International
This reconnaissance report was created by the Miyamoto International following the investigation of the affected region by Kit Miyamoto, CEO of Miyamoto International. On May 30, 2008, PEER hosted an informal briefing by Kit about the earthquake for students, faculty and other interested parties at UC Berkeley.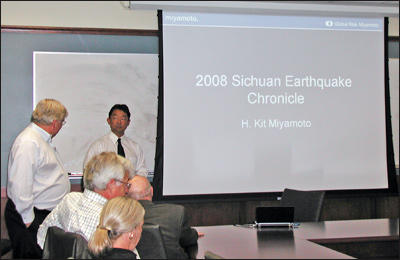 Posted July 11, 2008
Report from NCREE (PDF file - 964 KB)
This report was created by the National Center for Research of Earthquake Engineering in Taiwan (NCREE) by Chu-Chieh J. Lin & Juin-Fu Chai.
Posted July 1, 2008
Report from Yan Xiao (PDF file - 2 MB)
The May 12, 2008 earthquake caused widespread damage to the local infrastructure in China. This reconnaissance report was written by Yan Xiao after his visit to the affected areas within several days of the earthquake. Yan Xiao is a professor in the Department of Civil Engineering at the University of Southern California, a PEER affiliated university.
Posted May 30, 2008
For additional information about this earthquake see the webpages of EERI and USGS.