The OpenSRA project, supported by PEER and sponsored by the California Energy Commission (CEC), was featured in a special technical session at the 12th National Conference on Earthquake Engineering (12NCEE), "Reimagining Risk and Resilience," which was held in Salt Lake City, Utah, from June 27-July 1, 2022. The special session, "S.S.13 Seismic Risk Assessment Methodologies and Open-Source Tools for Natural Gas Infrastructure," was held on June 28 at 3:30PM.
OpenSRA is a multi-year study to develop open-source seismic risk assessment tools for natural gas infrastructure, and the project is currently in progress. Presentations made by the OpenSRA project team during this special session included the following: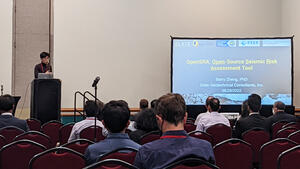 The 12NCEE conference brought together professionals from the full spectrum of the earthquake community to discuss and debate new research, advancements in practice, and a multitude of new and ongoing issues related to seismic hazard, risk, mitigation and public policy. Professionals from the United States and around the world represented a broad range of disciplines: architecture, civil and structural engineering, seismology, geology, geophysics, geotechnical engineering, business, public policy, the social sciences, regional planning, emergency response, and regulation.